Service Schedule and Products:
Service Schedule:
2017
Raymondville, Texas January 8 & 11 (three lessons)
Ft. Pierce, Florida February 5 & 8 (three lessons)
North Orange, Texas February 19 & 22 (three lessons)
Tucson, Arizona February 26 & May 1 (three-lesson Workshop)
Casa Grande, Arizona March 2 & 4 (two-lesson Workshop)
Tucson, Arizona March 12 & 14 (three-lesson Workshop)
Midland, Texas April 2 & 5 (three lessons)
Harker Heights, Texas April 9 & 12 (three lessons Workshop)
College Station, Texas April 30 & May 3 (three-lesson Workshop)
Muncie, Indiana June 25 & 28 (three-lesson Workshop)
Bainville, Montana September 10 & 13 (three lessons)
Billings, Montana September 17 & 20 (three lessons)
The Dalles, Oregon October 15 & 18 (three lessons)
Products: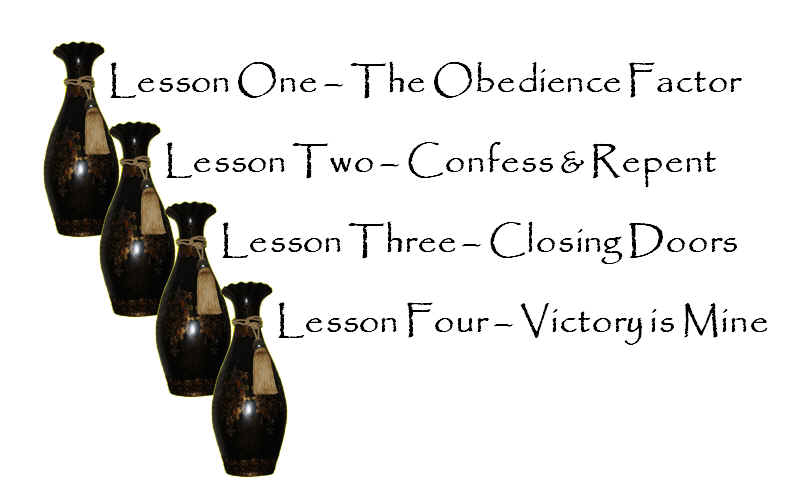 These products are only available at Walk in Faith meetings and to those who have attended the live lessons.
Over four hours (CDs) and 8 hours (DVDs) of teaching on healing and deliverance leads to the realization of the root issues and closing the doors on images and events that plague our lives.
Packages include either four DVDs or four CDs plus two dynamic booklets.

CD Package $50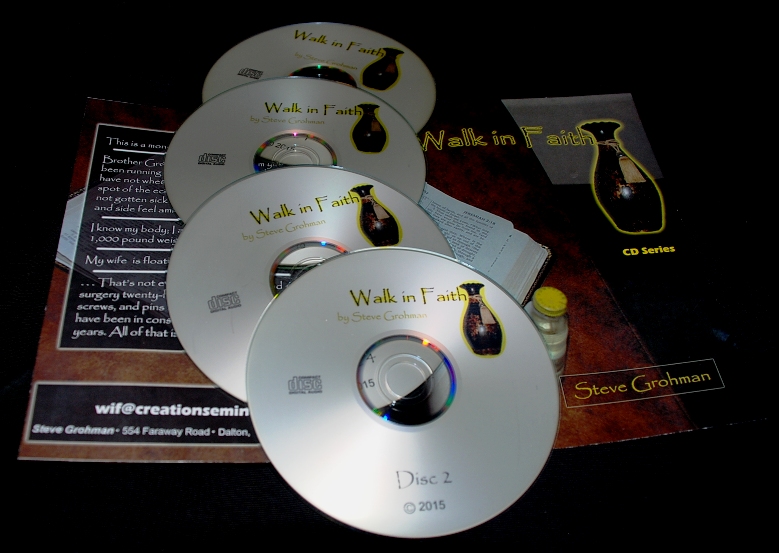 DVD Package $90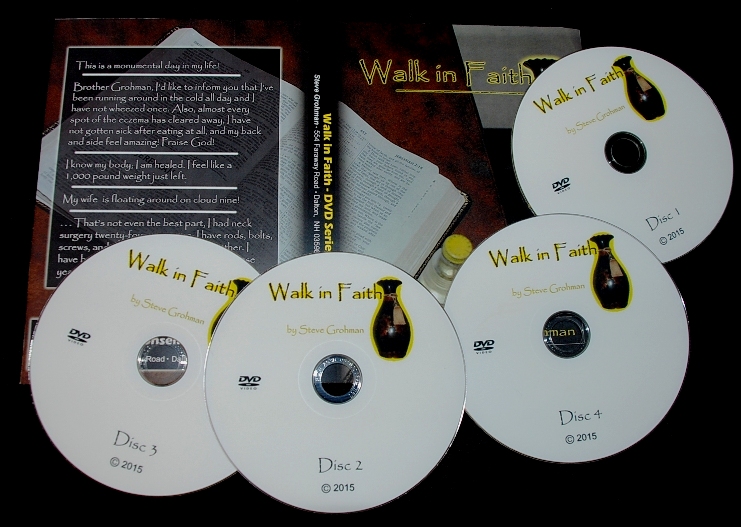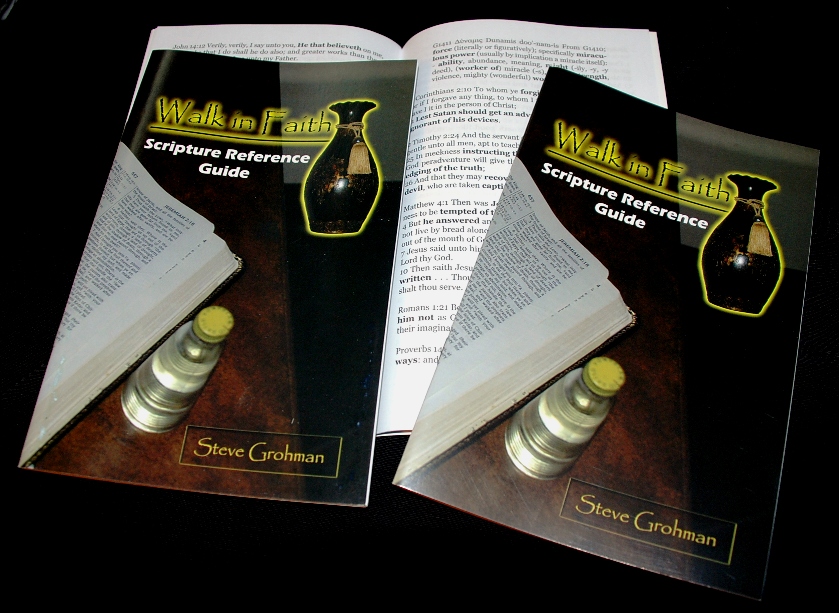 The Scripture Reference Guide has 23 pages filled with verses presented in the four lessons.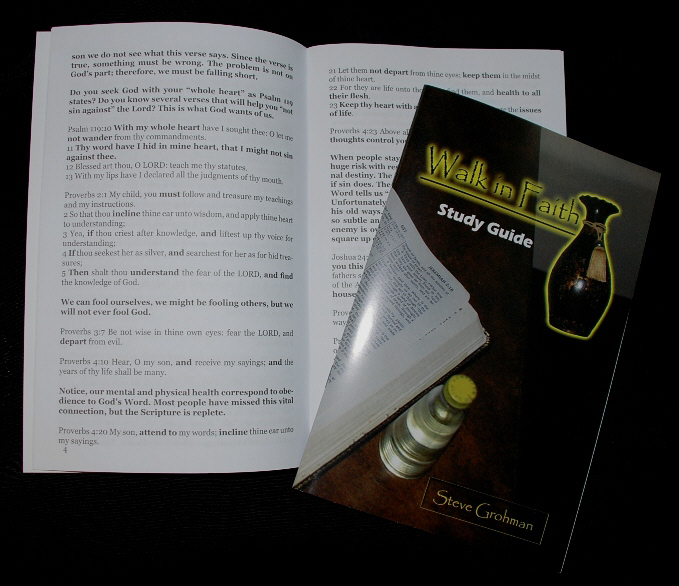 The Study Guide helps individuals learn and memorize verses that lead to obedience and commitment to the Lord. The guide, a daily devotional, inspires changes that will deepen your Walk in Faith.

The Study Guide is available in Spanish.
Ask for Caminar en Fe.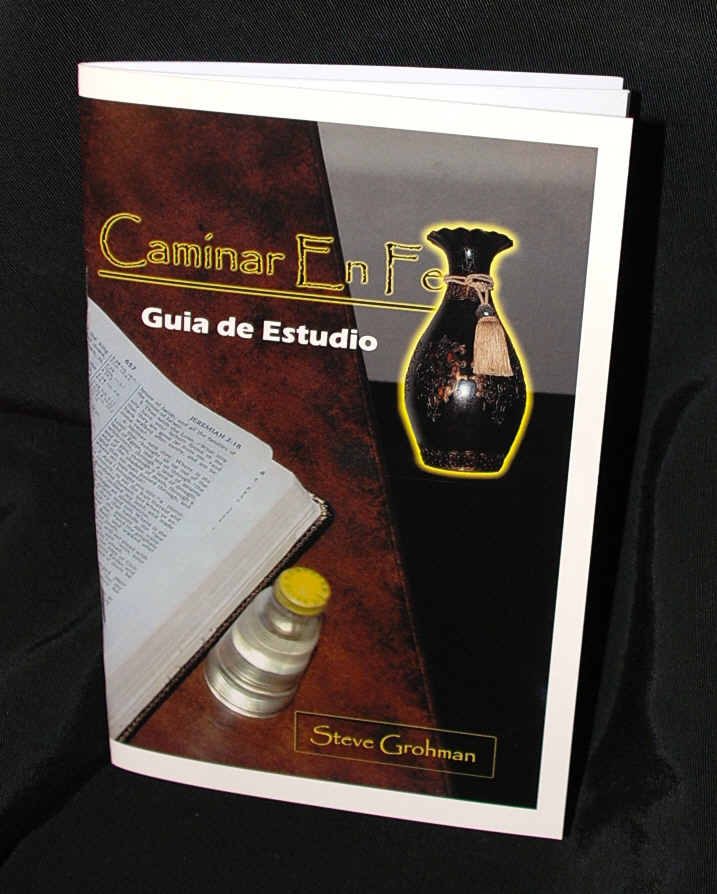 "I know these (DVDs) will be as much as a blessing to me and my family as the testimonies I've been hearing at church."
Call us at 603-616-8907 or contact us at wif@creationseminar.net
Thank you for your interest in this ministry. Countless hours are spent with hurting individuals at no charge. Your continued financial support of this ministry through future donations is greatly appreciated.
If God has blessed you through us, let Him bless us through YOU!